Skyrocket your lead generation operations by using Skrapp Email Finder.
This tool allows you and your team members to generate leads and their business email addresses from your LinkedIn/Sales Navigator (LI/SN) and save them to your Skrapp lists.



Table of contents:
Step 1: Install the Skrapp Email Finder Chrome extension
Head to the

"Skrapp.io - Email Finder" Chrome extension page

.
Click on "Add to Chrome"




Once complete, you will be redirected to the success page of the download. Then click on the icon and pin the extension to your menu bar.


Step 2: Find emails from LinkedIn/Sales Navigator
Option 1: From search result pages (LI/SN)
You can export the leads appearing on your search result pages on both LinkedIn and Sales Navigator to your Skrapp lists in a matter of seconds.
Proceed by following these steps:
Open your Chrome browser.
Log into both your Skrapp and LinkedIn/Sales Navigator accounts.
Launch your search with your desired keyword(s). Click on the "People" section of the results.




Click on the Skrapp extension icon to launch the export.




Select your desired list. This is where your leads will all be saved.
If you do not have a list already created, you can create it directly on the window by typing its title.




Move the page slider to the right to increase the number of pages per export*. You can export a maximum of 20 pages at a time.
*This option is available to premium accounts only.




Check/uncheck the "Search for email addresses" and the "Save leads with found emails only" options depending on your preferences, then click on "Launch Email Finder."




Your export will launch instantly, showing you the email-finding process in real time.
Please do not close your window or your tab until the export is complete.




Once the export is complete, the Email Finder extension will automatically place you on the latest page of your export.
You can then either go back to your Skrapp list to find your results or launch another export from the latest page you have stopped in.





Full video tutorial available here.


Option 2: From leads' profiles (LI/SN)
Save your time on your lead generation and find the business emails of your prospects as you go. You can save their business information while you are visiting their profiles in one click.
Log into both your Skrapp and LI/SN accounts.
Open the page of your prospect's profile.
Click on the blue icon of the Skrapp extension on your menu bar.
Once the pop-up with the lead's data appears, choose your list, then click on "Save."




Full video tutorial available here.


Option 3: From Lead Lists (SN)
Log into both your Skrapp and Sales Navigator accounts.
Access your Lead Lists on Sales Navigator then open a list you have previously created.
Click on the Skrapp Chrome extension icon on your menu bar.
Select your list and launch the operation, just as explained in the section above.



Full video tutorial available here.


Step 3: Manage your found leads
When your exports are complete, head to your Skrapp dashboard to find all the leads saved in their respective lists.
You can then either download your leads and their business data as CSV/Excel files, edit them, send emails, and more.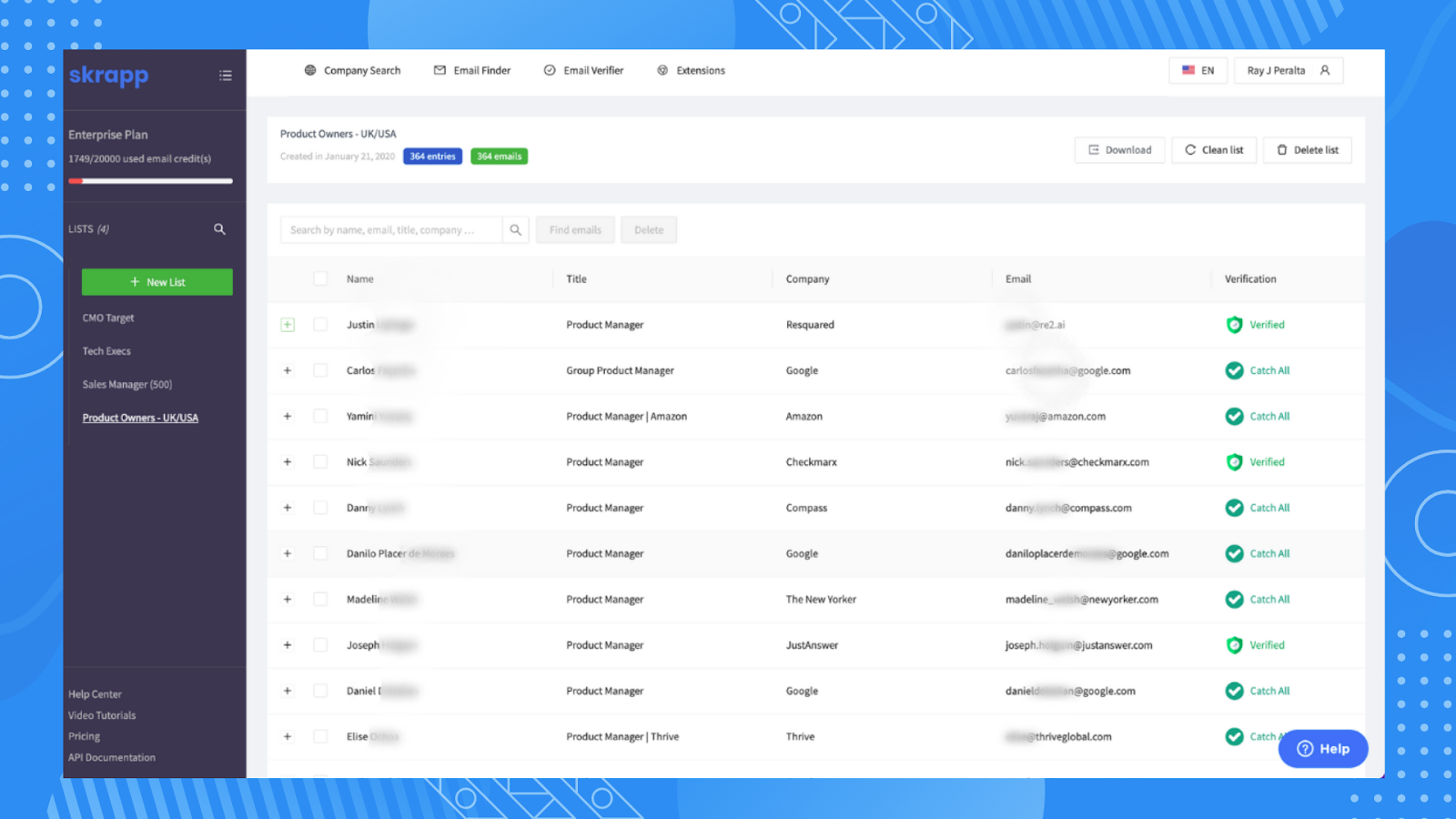 For more details about how to manage your lists, head to this article.
Need help or have questions? Email us at support@skrapp.io.